iOS 12 New Features ,Apple's latest update to iOS 12 is finally out and it is full of amazing features. The update is available for lowest model Upto 5s for iPhone mini 2 for iPad and for iPod touch 6th generation. The brand new phones iPhone XS and iPhones XS Max is already having ios 12 with them.
With lots of great and amazing features new update of iOS 12 have some cool and awesome wallpaper, we going to discuss all the features, updates and functions about the new iOS 12 .
iOS 12 New Features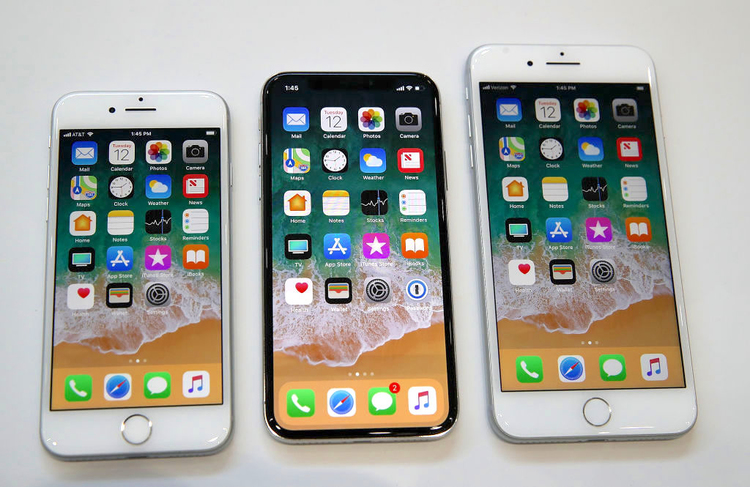 Speed is the biggest plus point for any mobile device , and iOS 12 top priority is speed Apple claims to enhance speed up to 70% faster swipe to camera , 2X faster app launch and 50% faster keyboard display.
Enhance in speed makes your existing phone more fast and reliable, if the iOS 12 New Features update works up to the mark it would be great fun to use new super fast apple device , just imagine the 70% fast swipe to camera 2 times faster app launch and 50% faster keyboard display. Well after that shitty headphone jack removal Apple is focusing on some better things too.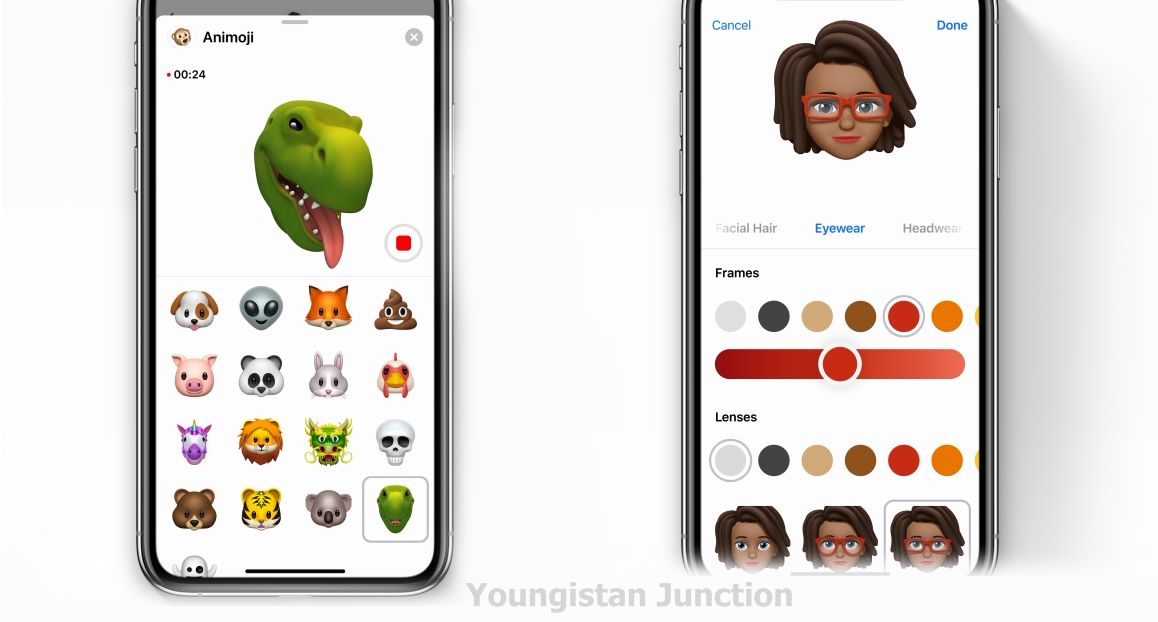 We all use emojis to express our feelings to the person we are talking what if we can make emoji with our own face with customize hair styles, eye Color and sunglasses, it would fun and awesome right . Apple has make this true , they are giving the new feature memoji and Animoji , we can create some awesome mems and animation with our own and send it to the person whom we are talking.
We must keep in mind we can only use these features in Messaging and Facetime Call. Appart from memji iOS 12 New Features have animoji in the form of koala, tiger, ghost or T. rex to inject some fun into our next Messaging or FaceTime call.
Multiple Face ID For Screen Unlock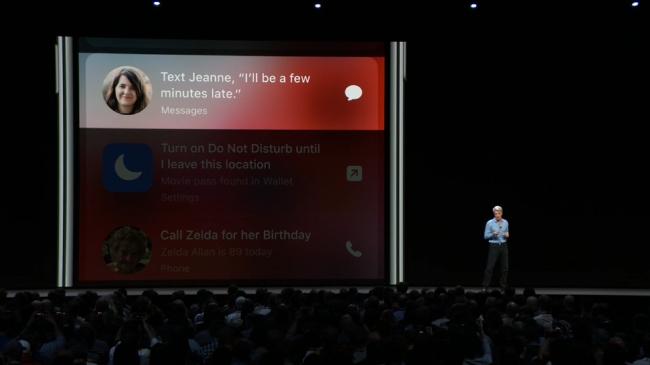 iOS 12 New Features includes multiple face id unlock feature, Imagine You have left your phone in home and you got some important mail at your mailbox on the phone , You call to people at your home they were unable to unlock your Phone. It  will be huge mess right ? You have to open your mail to another device and all . Apple have solution for that too, they have come with Multiple face id unlock feature in this update.
You can set multiple face unlock id in the Setting menu labeled 'Face ID & Passcode.' Look for the 'Set up an Alternative Appearance' sub-menu to add a second look. You can set multiple face id by going to Settings> FaceID and Passcode > Set up and alternative appearance. All Done !!!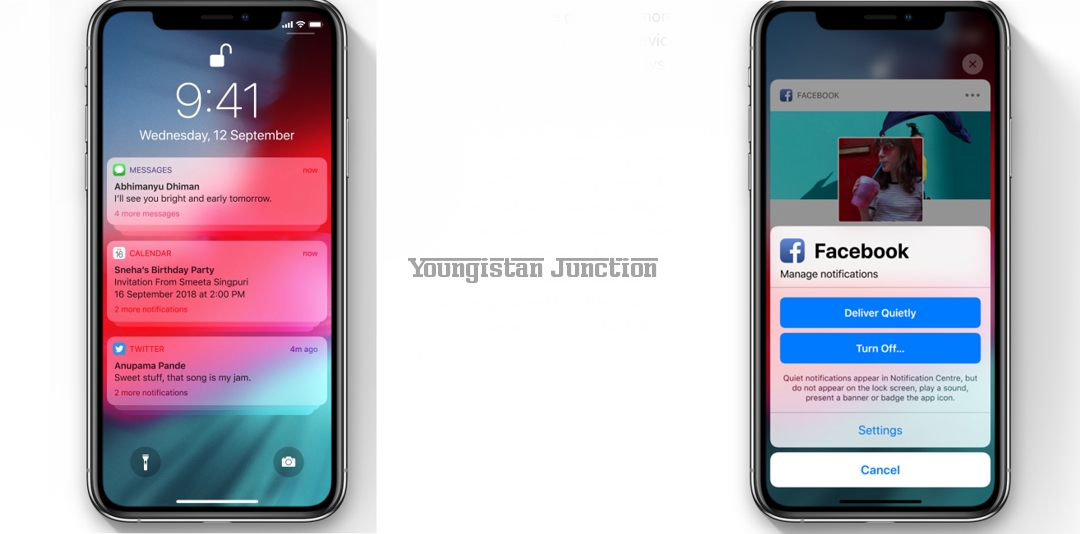 You have use social media audience , lots of friends and followers on social media and good amount of numbers in contact list , you are getting lots of message , notifications and texts all coming separate tabs it will be annoying right .?
iOS 12 update have solve the problem by the new feature , here you can manage notifications in real time from the Lock screen, send notifications from a specific app to Notification Centre or turn them off altogether. Messages from thread are grouped together so it will easier to decide which are important and which are not.
Send And Search Photos In New Way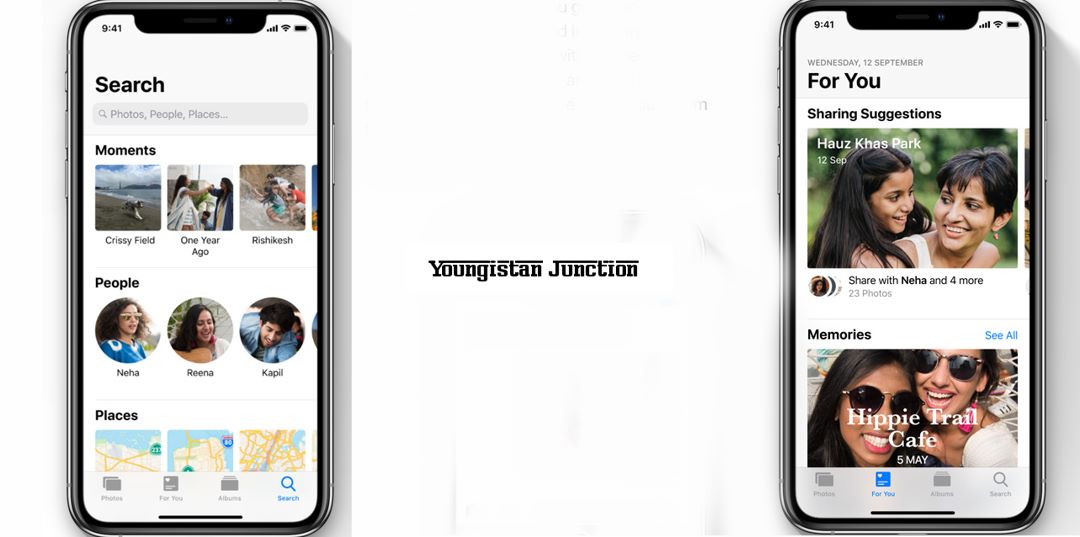 iOS 12 comes with new way to share and search your photos from the device . There will be "For You " that shows you great and amazing moments that you have clicked from your photo library and intelligently suggests sharing photos with the people in them. If the people opposite also using iOS 12 He/she can do the same.
Another gallery related that comes with new iOS 12 is Photo search feature, you can search photo of particular person , place or the date . You can search by simply typing in search box in photo gallery. Results will be accurate , you can also modify the results by adding more keywords.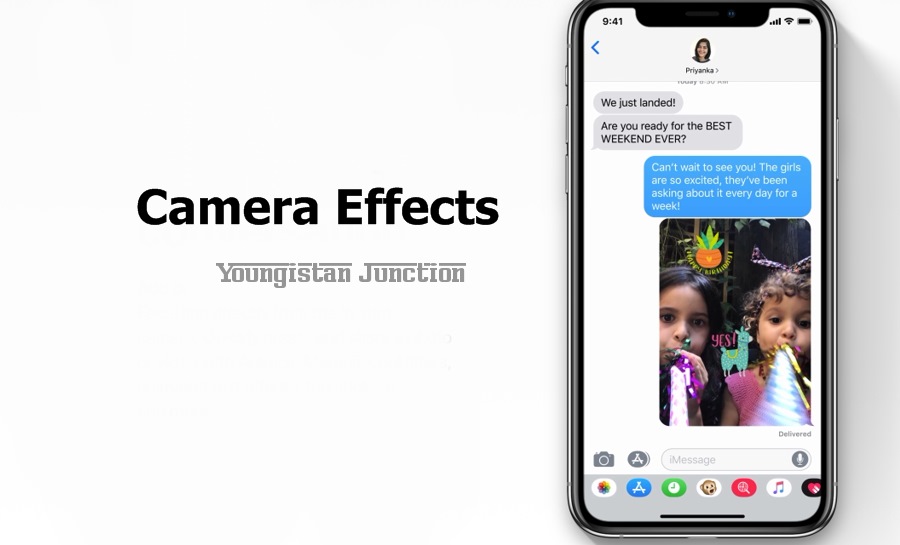 The new iOS 12 comes with the improved portrait lighting and QR code reader. Improved portrait lighting makes the iPhone camera better then ever, the new updated Camera now generates a mask whenever it detects a person and intelligently and elegantly separates the person from the picture, this helps in clicking better pictures.
Another feature is we can Quickly and eaisly create and share a photo or video with cool filters, animated text effects, fun stickers ,Animoji, Memoji and more while texting of video Calling.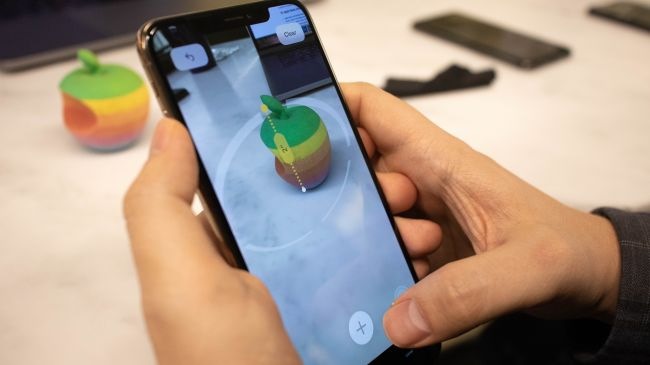 The awesome feature the "Measure App " is just wow in iOS 12 With The help of this application you can measure objects and surfaces both vertically and horizontally from our iPhone and iPad. The new measure app also automatically detect dimensions of rectangular objects.
FaceTime with up to 32 people at once ( Coming Soon)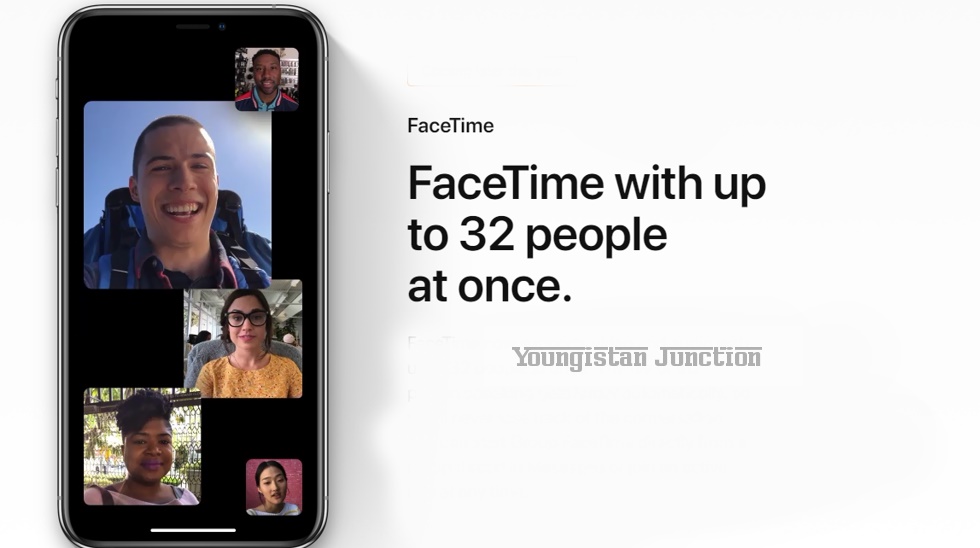 Imagine calling in group with not 1, 2 but 32 people all together on single video chat. It will be fun and amazing right ? iOS made it possible with all new iOS 12 update we can add upto 32 people in Facetime video chat.
While chatting the the tile of the person who is speaking automatically gets larger so it will be easy for us to determine who is speaking who is not.
More Control Over Your Kids Devices.
New iOS 12 provides more control to parents over their kids devices , Parents can manage and track the use of their kids phone accurately and instantly.
The Screen time feature in the new iOS 12 monitors all the times that kids are spending on various activities like browsing, playing games, watching videos, listening music etc.
In new iOS 12 the SMS for security codes and one time passwords will appear automatically as Auto Fill suggestions ,we don't have to manually types the SMS Codes send by the sender.
This features is awesome when we have to insert some tricky Pass codes and security codes and auto fill feature done it few seconds with 100% accuracy.
Privacy While Accessing The Internet
iOS 12 New Features included after Facebook data leak and other major internet privacy problems , privacy while accessing the internet is biggest problem for users. iOS 12 update comes with the awesome privacy feature for you.
while accessing websites iOS will sent you notifications regarding the datas that are collected by websites and there will be option for allow and disallow from that you can make your browsing more secure and privacy friendly.
This is all about the awesome features that are coming with iOS 12 Update , Now lets jump to wallpaper section.
Wallpapers In iOS 12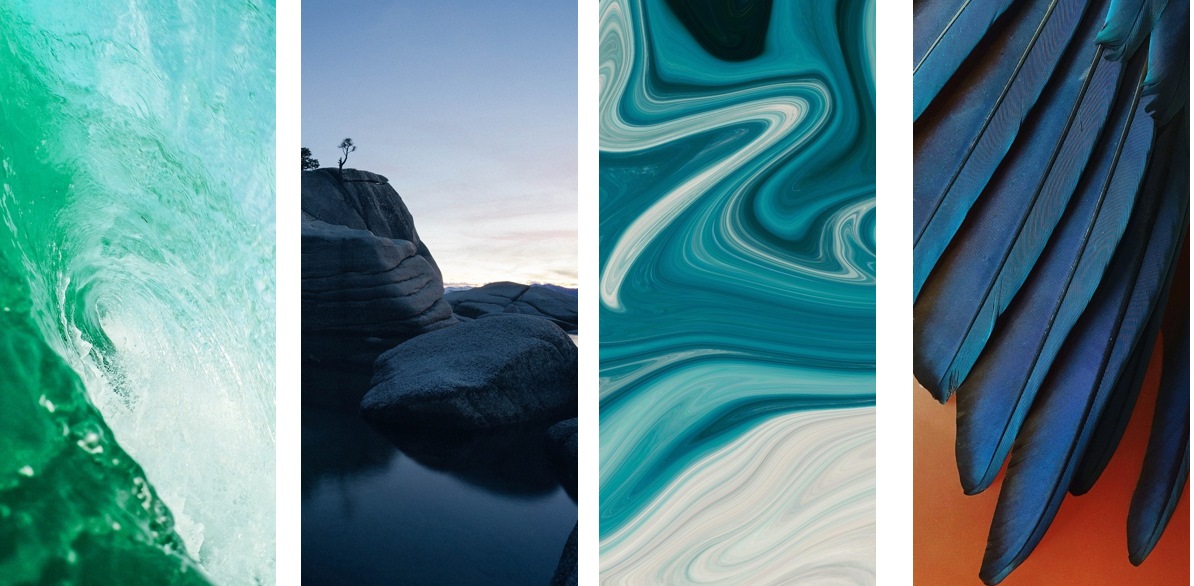 iOS 12 New Features include some awesome wallpapers too, these are the wallpapers that are coming inbuilt with the new iOS 12 update, the devices that supports iOS 12 will get these wallpapers in the wallpaper section on their mobile.
The new iOS 12 wallpapers will be available for iPhone XS, iPhone XS Max, iPhone XR, iPhone X, iPhone 8, iPhone 8 Plus, iPhone 7, iPhone 7 Plus, iPhone 6s, iPhone 6s Plus, iPhone 6, iPhone 6 Plus, iPhone SE, iPhone 5s, 12.9-inch iPad Pro 2nd generation, 12.9-inch iPad Pro 1st generation, 10.5-inch iPad Pro, 9.7-inch iPad Pro, iPad 6th generation, iPad 5th generation, iPad Air 2, iPad Air, iPad mini 4, iPad mini 3, iPad mini 2 and iPod touch 6th generation.
You can download high quality hd wallpapers from the link below.
You can get all the updates happening around the world by just visiting our site Youngistanjunction. We post there daily.
So That's all about today post , hope you like our content , if you have any questions and suggestions you can drop the comment in comment box.
Share to your friends , Sharing is caring 🙂